Welcome to the fantastic team sport of Synchronised Ice Skating.  This is a great team sport that involves between 4 and 24 skaters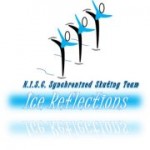 doing  manoeuvres on the ice to music.  It is great for fitness, socialising and gaining ice skating competence.
Club Membership
Skaters will need to become a member of Hunter Ice Skating Club in order to train with the Team.  Download the application for membership by clicking here.
When do we skate?
Training for all levels is presently conducted on-ice on Sunday mornings & Thursday evenings.
What to wear?
Until you decide if you want to join the Team we advise that you wear something comfortable that does not inhibit your range of movement.  Dangly earrings and jewellery which could get caught on clothing or scratch other people should be avoided.  Gloves should not be worn either as we need to get a firm grip for some of our manoeuvres.
Coaches
Presently Ice Reflections Synchronised Ice Skating Team is coached by Lara Matskel.
Contact The Team
If you have any enquiries about Ice Reflections Synchronised Skating Team, please contact
Ice Reflections.