This years ice show is The Greatest Ice Show (circus based theme).  The registration list is now available for you to put your name down on in the coffee shop near the TV.  Beginners to Elite levels welcome to participate.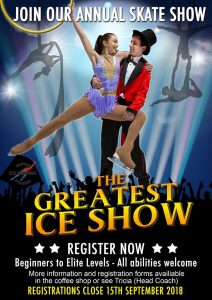 Rehearsal commencement date is still to be confirmed pending the completion of the current hockey season finals. Anticipate mid to end of September.  All registered participants will receive an SMS along with announcements on the website, club facebook page and schedule listing in the coffee shop, stay tuned for updates.
9/12/18                – First full dress rehearsal
12/12/18              – 2nd full dress rehearsal + Guest Audience (Run completely as a show)
13/12/18              – 10 am – School show + Public Show
– 7pm – Public Show
15/12/18              – 2pm – Public Show
– 5.30pm – Public Show
Registration payments open now at the cashiers booth.
TICKETS NOW ON SALE!! – For online ticket purchases,  CLICK HERE

Dress Rehearsal Note & Info 021218